In her most recent Instagram video, Dr. Pimple Popper removes a huge cyst on her patient's eyebrow.
Dermatologist Sandra Lee, MD, goes to work squeezing out a ton of chunky white gunk that she describes as "grits" and "mashed potato[s]."
Unfortunately, this isn't the first time this patient's had a cyst right by his eye. It's actually been removed multiple times before this extraction.
There's nothing like waking up to a good ole Dr. Pimple Popper post—especially one that has a "sensitive content" warning—to really start your day sunny side up. Right? Eh, not so much, especially in the case of this morning's content…
In her latest Instagram video, Dr. Pimple Popper (a.k.a. Sandra Lee, MD) gets to work on a huge bump taking up some seriously precious real estate right by her patient's eye. "This #cyst is giving me Brunch vibes… shrimp and grits anyone? 🙋🏻‍♀️💥🍤 #brunchsohard," the derm captioned the post. I repeat: "Brunch vibes."
Nooooo! God! Please noooooooo! — Steve Carell in that scene from The Office but also me very much so right now.
This #cyst is giving me Brunch vibes… shrimp and grits anyone? 🙋🏻‍♀️💥🍤 #brunchsohard #drpimplepopper
A post shared by Sandra Lee, MD, FAAD, FAACS (@drpimplepopper) on
As the video begins, the doc finishes up slicing open the cyst that's so frightening close to the patient's eye you can't help but cringe (sorry @ patient!). But apparently the whole situation is NBD for Dr. P, as she just continues on complaining about shopping for her son.
It's easy to get distracted by Dr. P's monologue about her son not wearing the "cute shirt" she got for him yesterday because next thing you know, the derm's dropped the scalpel and is using three fingers to squeeze out tons of white goo. Being the expert that she is (duh), Dr. P can clearly sense there's even more pus hiding beneath the skin. So she puts even more pressure on the eyebrow bump and POW! out spurts more chunks of gunk.
"It's a little mashed potato cyst. It's soft," the derm says as she continues to push out the never-ending juicy stuff.
Oh, yum! Go ahead and add mashed potatoes to list of foods (along with strawberries, olives, and oranges) that I won't be able to eat for months, thanks to Dr. P's descriptions.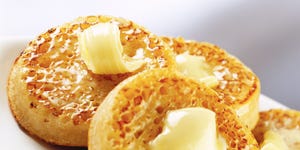 As the derm continues to push against the cyst, she explains that this is actually the return of the eyebrow-area cyst: "He has had this removed maybe twice before he saw me and then we removed it the last time and then it came back." But Dr. P tries to remedy the situation by snipping out the cyst's sac.
Fingers crossed for you, bud!
Source: Read Full Article