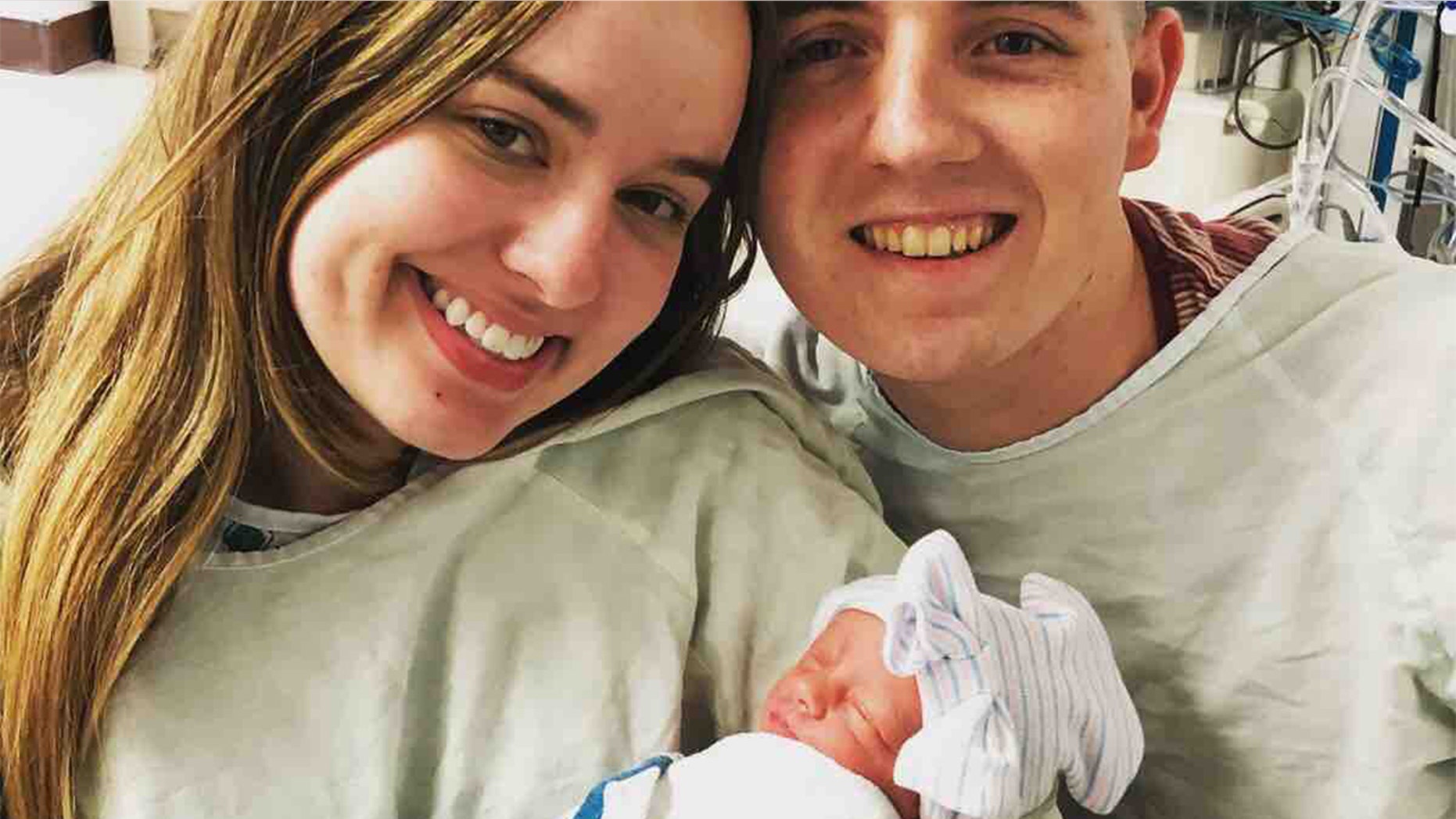 Grace and Bryson Mawn went to the hospital for Grace's suspected kidney stone pain, and quickly learned they were about to be parents.
(Courtesy of Bryson Mawn)
A Louisiana couple who said they had no idea they were expecting a baby quickly made the transition to parenthood two weeks ago after Grace Mawn's suspected kidney stone pain turned out to be active labor.
"I knew when I felt something down there, I knew it wasn't a kidney stone," Mawn, whose husband Bryson took her to the emergency room after they left dinner with friends on March 25, told KSLA.
MOM CLAIMS SPIDER BITE LEFT SON WITH GAPING HOLE IN LEG
Mawn said she was on birth control and that she hadn't missed any periods or experienced any typical pregnancy symptoms in the months prior to arriving at the hospital. But on March 26, at 3:03 a.m., she gave birth to Micaela Grace.
"I never felt her move during the pregnancy," she told KSLA. "I never had cravings, I never had morning sickness. Looking back now I did put on a little bit of weight, but it wasn't noticeable weight, so I didn't ever think about it. I had my normal cycle some months were a little lighter, but I thought it was the pill that I was on so I never thought anything about it."
Bryson Mawn, who is in the Air Force and is stationed at Barksdale Air Force Base, said when he heard his daughter's first cry, he was in shock.
CLICK HERE TO GET THE FOX NEWS APP
"They said 'It's a girl,' and she starts crying and the moment I heard that cry I was like 'How is she alive? What is going on?'" he told the news outlet. "So many questions, so many scenarios going through my head of what's going to happen."
Bryson Mawn said he set up a GoFundMe page to help cover their unexpected addition as the couple only had a few hundred dollars in their savings prior to their daughter's birth. KSLA reports that Micaela is currently in the NICU at LSUS-Health, where she continues to make progress.
Source: Read Full Article