A plastic surgeon who consulted with TLC star Jazz Jennings on an episode of her show, I am Jazz, has been fired from the University of Miami Health System after posting photos of transgender patients' genitals on Instagram.
Christopher John Salgado, M.D., had served as a section chief of UHealth's LGBTQ Center for Wellness, Gender, and Sexual Health. After Dr. Salgado allegedly shared graphic images of patients' who'd undergone gender-reassignment surgery—including a removed penis shaped into a heart on Valentine's Day (with the caption, "There are many ways to show your LOVE")—transgender advocates petitioned the American College of Surgeons to get involved, the Miami Herald reported. According to trans-support org The Trans Advocate, Dr. Salgado may have started posting images as early as October 2018, including one of a dildo that had been removed from a patient's anus with derogatory hashtags like #rectumraiders and #realdicksmatter.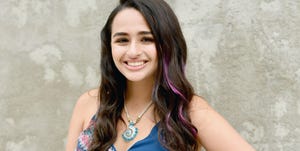 His Instagram (@sexsurgeon) has since been deleted.
In a written statement, UHealth spokeswoman Lisa Worley announced that Dr. Salgado is no longer employed by the university. "The University of Miami is committed to promoting and supporting diversity in its students, faculty, and staff and finds any transphobic comments unacceptable," she wrote.
To think that a surgeon who was supposed to be not only helping, but also looking out for an already stigmatized minority could have violated patients' privacy like this is, for lack of a better word, disgusting.
One can only hope that behind closed doors, his patients received the care and judgment-free zone that they deserved.
Source: Read Full Article